This bike came from a fellow VJMC member, as you can see it still needs a tidy up :). It will be a slow rebuild as I have other bikes I am working on as well. Life began for this bike as a police bike, I will be doing a mild special with it such as low bars and a single seat with retro paint work, maybe sparkle gold with maybe some air brush art. The wheels are Henry Abe.
Pics below show it before I started the initial clean up, it does looks a little better now but not a whole lot. I am sure it will be presentable by the time I have finished the rebuild.
At some point someone had chromed almost every part on the bike, most of the chrome has flaked off now but I will need to bead blast whats remaining.
The main wire harness was completely useless, most of it cut off so I have purchased a new one to use, I am thinking there will be a lot more new parts needed too :)
I hotwired for ignition, fresh fuel and oil, gave it one kick and it bounced into life, pretty amazing I thought, it even idled sweetly. Breaks down a little at higher revs so some more carb work will be required. While the engine was hot I was able to remove the plugs, I could see by their condition the bike had been running nicely before it was parked up. Thats it for now, I'll just be gathering parts needed for now, the rebuild will have to wait a couple of months I think.
January 13 2013. Stripped.
The old Honda is now stripped right to the ground, it was a real battle to do too, had to use the gas gun a number of times to free up solid bolts.
The acid bath to remove rust from metal bits so I can see true condition.
Gas heating to remove really stuck threads.
Rear guard before and after rust removal treatment. I left it in the acid for a long time and it has gone back to the copper coating, I have clear coated it and may just use it as is.
---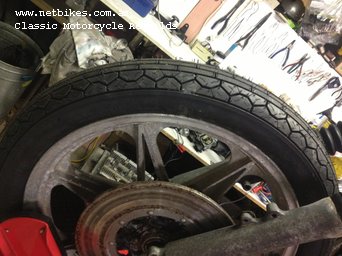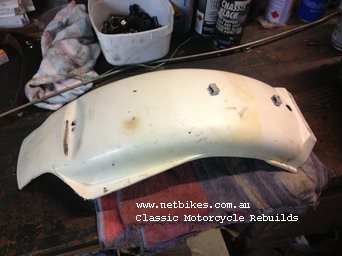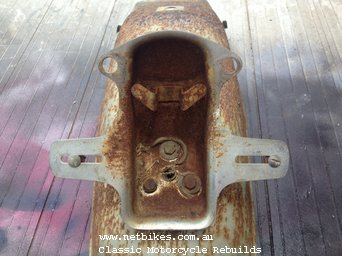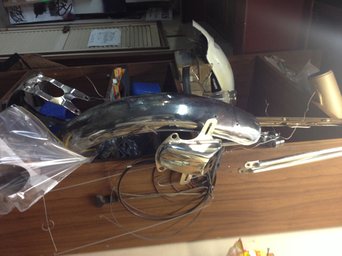 I fitted a new front tyre just so I could move the bike around the garage, it will come off again soon so I can restore the rim. The rims are Henry Abe, very rare now, rarer than Lester rims.
Found the original white plastic of the inner rear guard under some poor painting, I am going to use it like this.
More rust to remove on the tail light holder.
Both the tail light and the front guard came up pretty nice, they will also be refitted as is.
---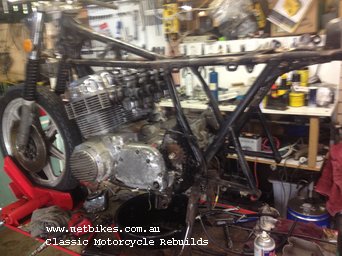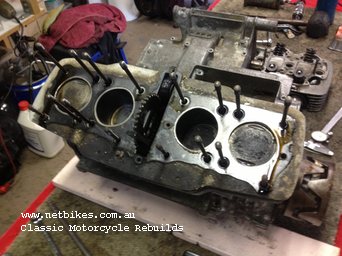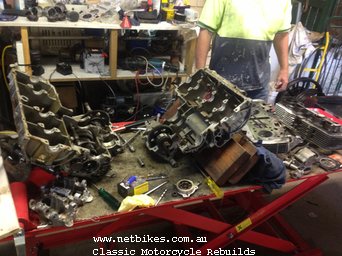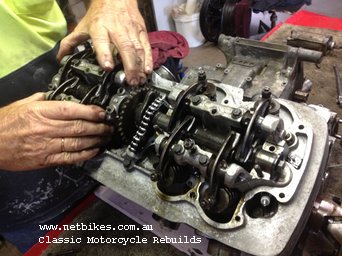 Bike well on the way to being just a bunch of parts.
Head off to inspect pistons etc, they are 810cc. All good there, I'll probably fit new rings under the while your there policy in my garage.
Engine fully apart
Pulling the head down so I can vapour blast it.
Head coming apart for fins can be blasted.
---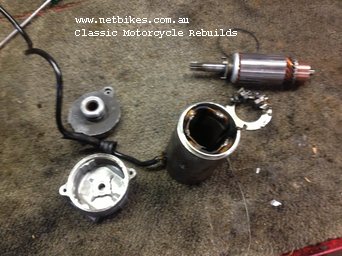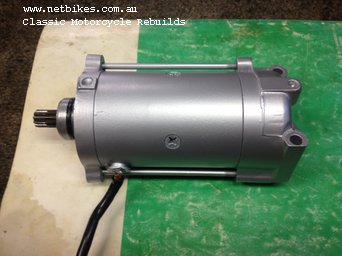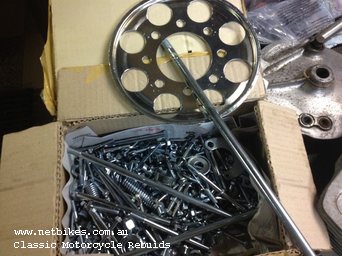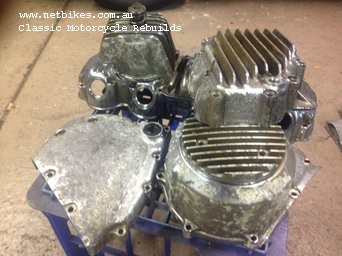 Starter pulled apart for complete service and back together again.
All the threads with fresh Zinc plating
Engine covers that will need t be de chromed before I can restore them.
---
January 28 2013. Powder Coating.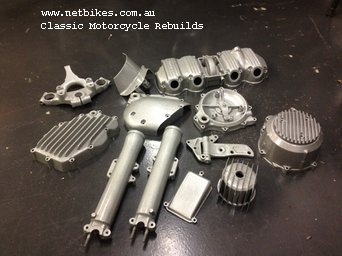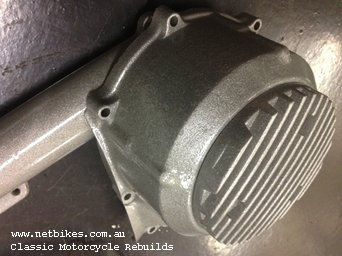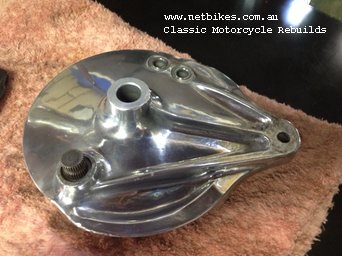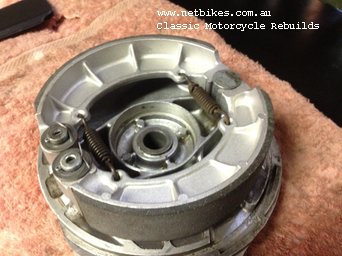 Engine covers etc I had powdercoated mainly because water corrosion was pretty bad and they were never going to polish up too good.
The polisher got some use on the rear brake plate though, new linings fitted too, buuut being aftermarket they of course didn't fit straight up, I had to enlarge the holes just slightly so they would fit over the posts. Just one of the things that turn a 10 minute job into 30 minutes.
---
March 27 2013. Some wet Blasting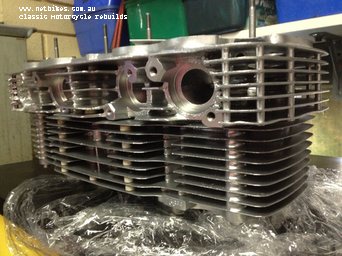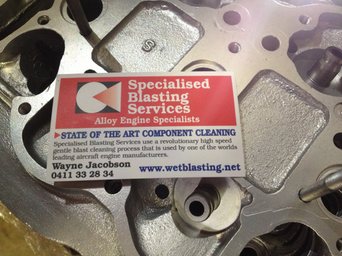 Awesome blasting job on the head and barrels. Now if only I can locate some 810cc piston rings. December, ok I am back into this, again at a slow pace, have frame and wheels powdercoated now and have begun some assembly, waiting on some chrome fastners before I can go too much further.

I really don't what you would call this colour, it is a cross between red and orange and it has a gold fleck which I will take better pictures in the sunlight at a later time. The swingarm has new brass bushes and inner spindle. The front wheel new bearings etc, download the close up pic of the wheel coating for a better look.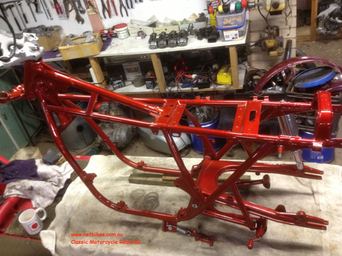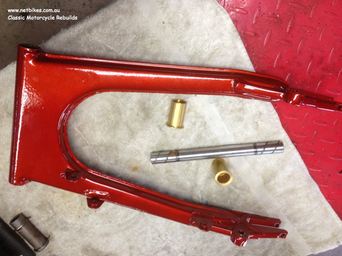 ---
Later in December :), Real assembly has begun and I hope to have the motor installed within a week. The rear wheel is away having some work done to it presently but again in a week that should be installed to.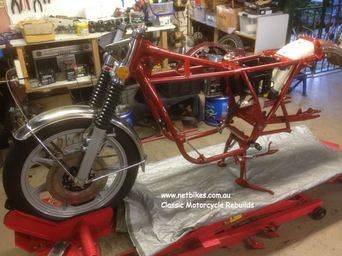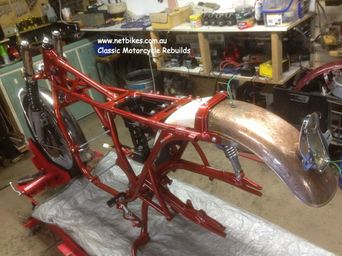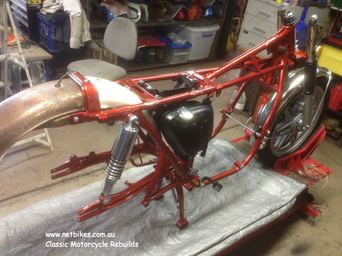 ---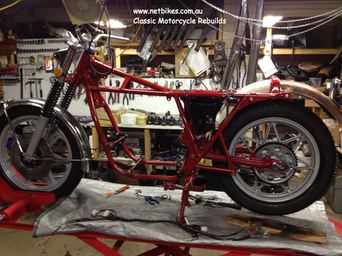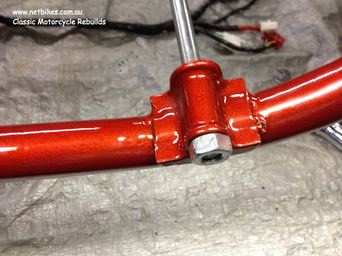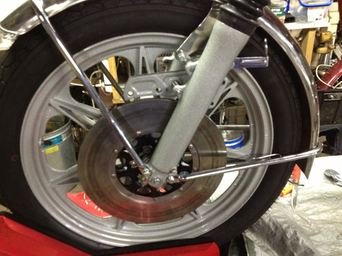 ---
January 23 2014. Progress is moving at a gentle pace but steady.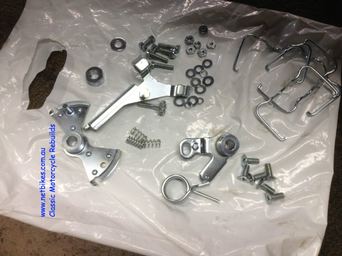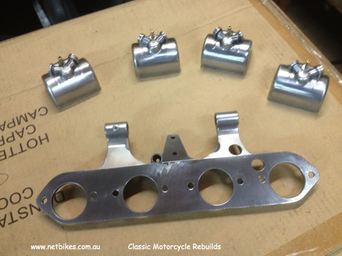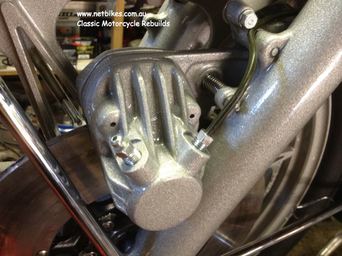 Into the carbs now, all alloy parts have been polished and clear coated. Front calliper looks sweet, has new seal, piston was good.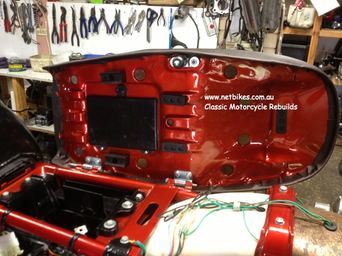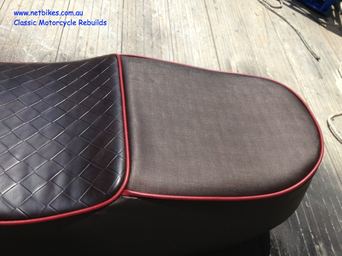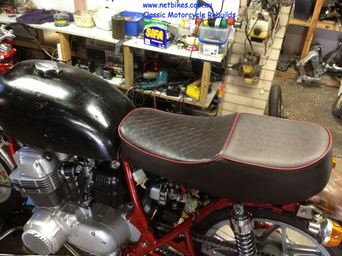 Seat was done by John Clough, Unit 1-53 Meadow St Coopers Plains, 07 3277 9912, 0449 707 071
Lots of new rubbers fitted, not only the obvious but the small hidden ones too. Carbs also have new intake and air box rubbers.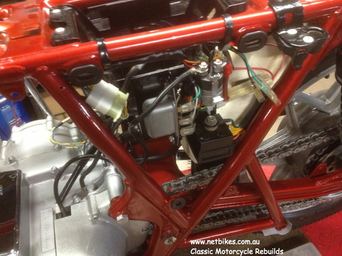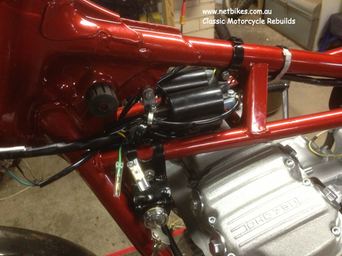 All wiring replaced and the coils and leads as well. Wiring peripherals cleaned up and will be reused.
---
OCTOBER 14 2014
Ok this project has now come to the end, I am very happy with the result, for the most part I used all the original parts including parts that had rust holes, resisting the replace everything with NOS parts restoration method.
Parts that I did replace include wiring harness, brake master cylinder, upgraded reg/rec, piston rings, switch blocks, and of course all tuning and road worthy needs, carb kits, carb intakes, tyres, air filter, oil filter, chain etc.
The bike is obviously not stock but I kept it in the 70's tradition of "doing up a bike", the main different being it costs a hell of a lot more these days :).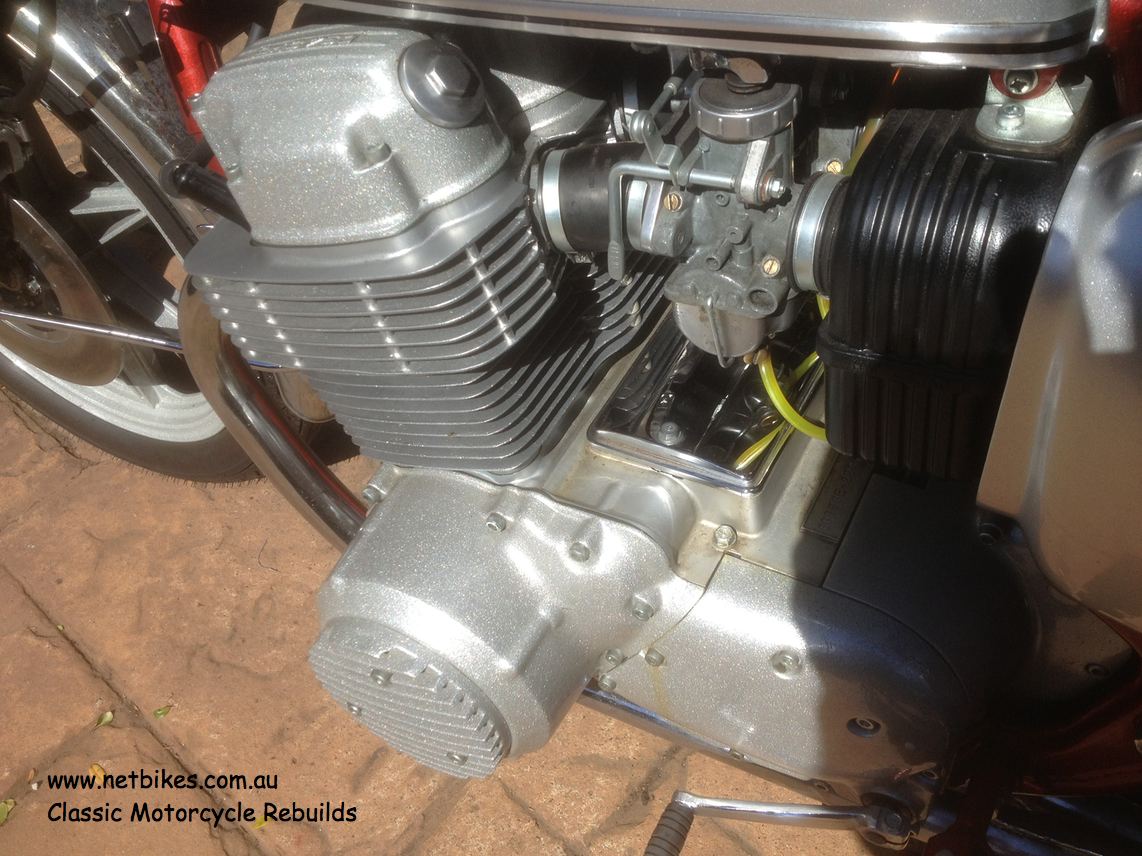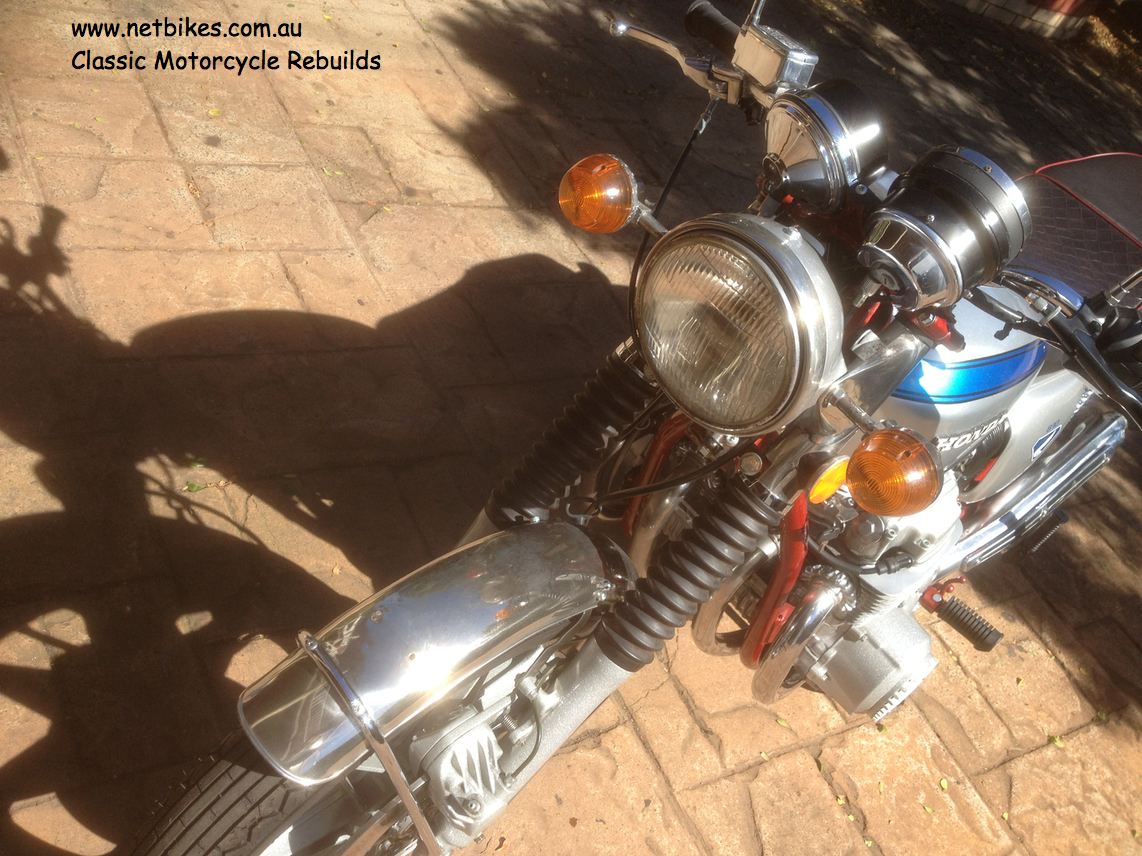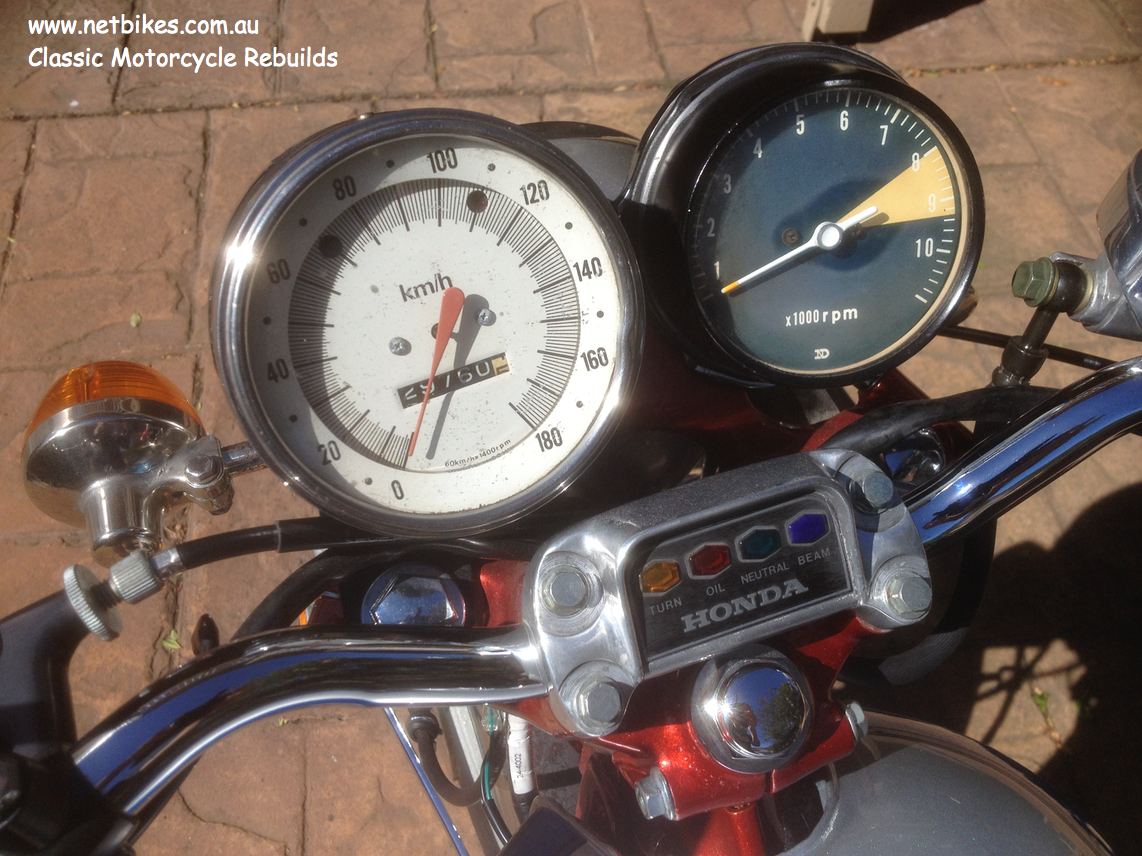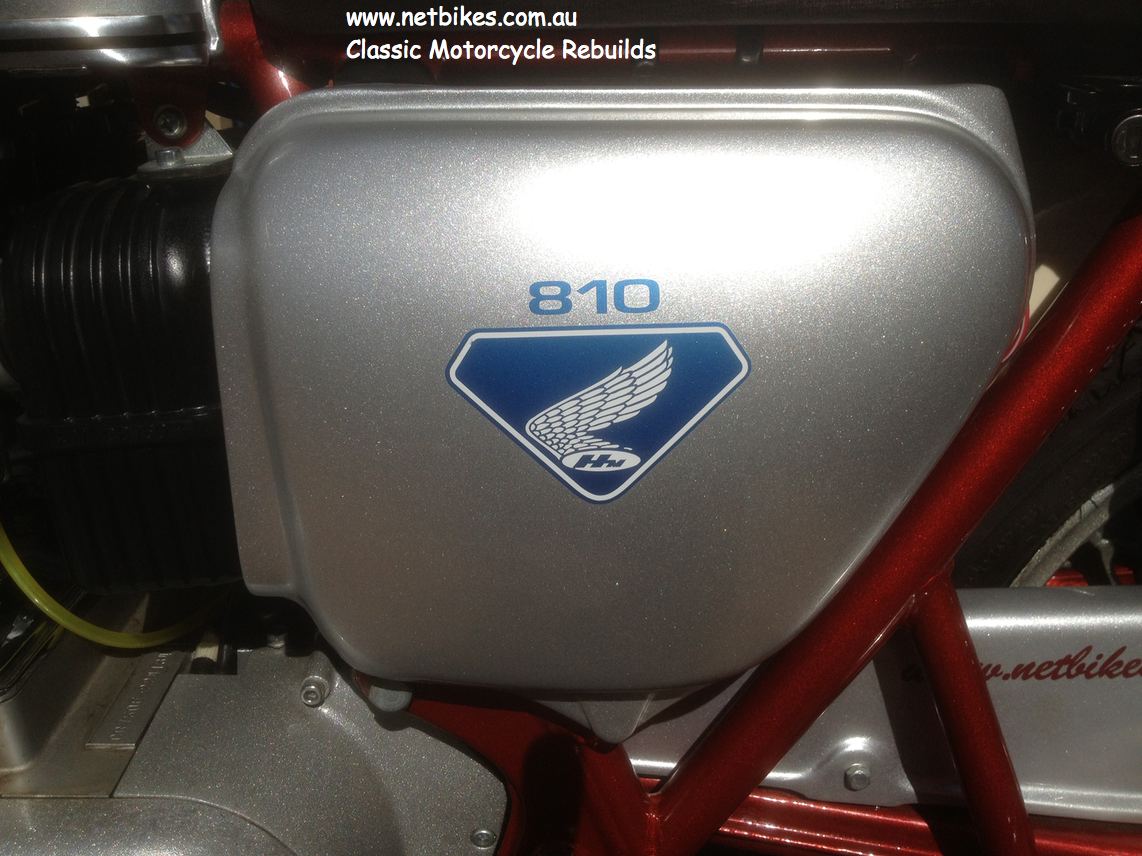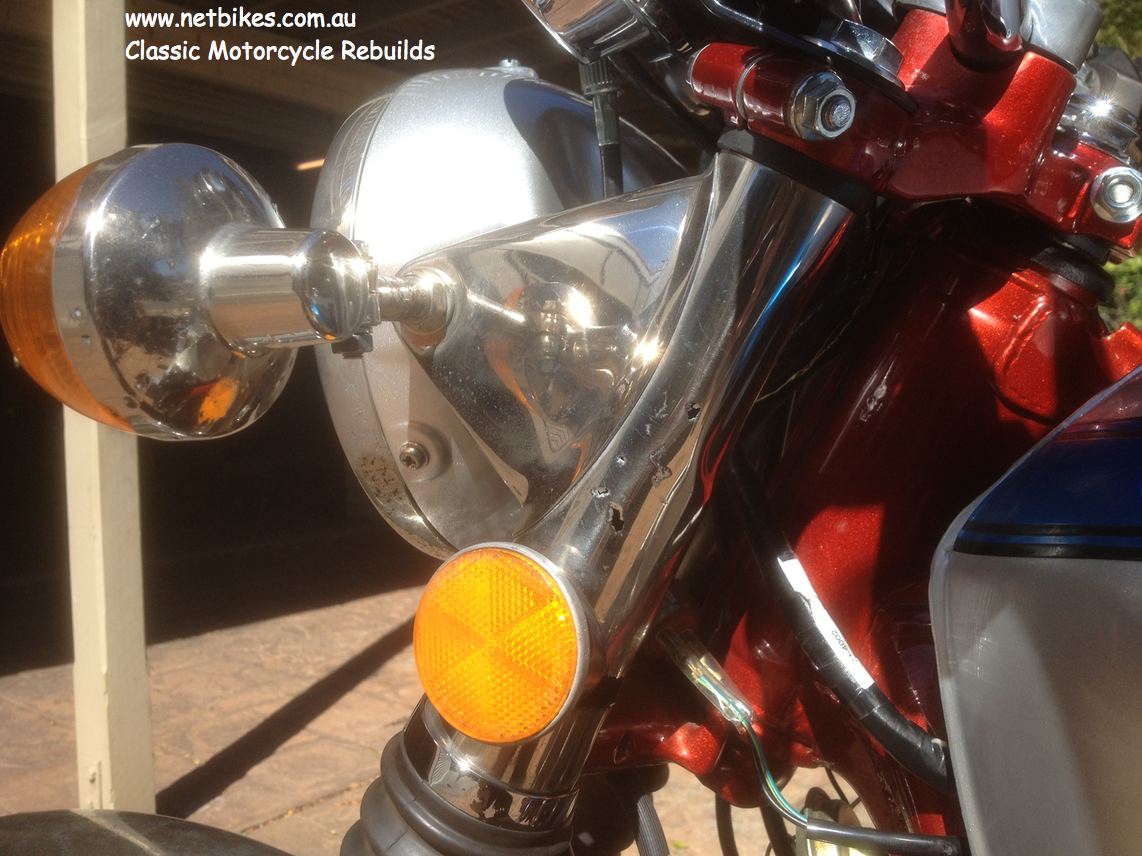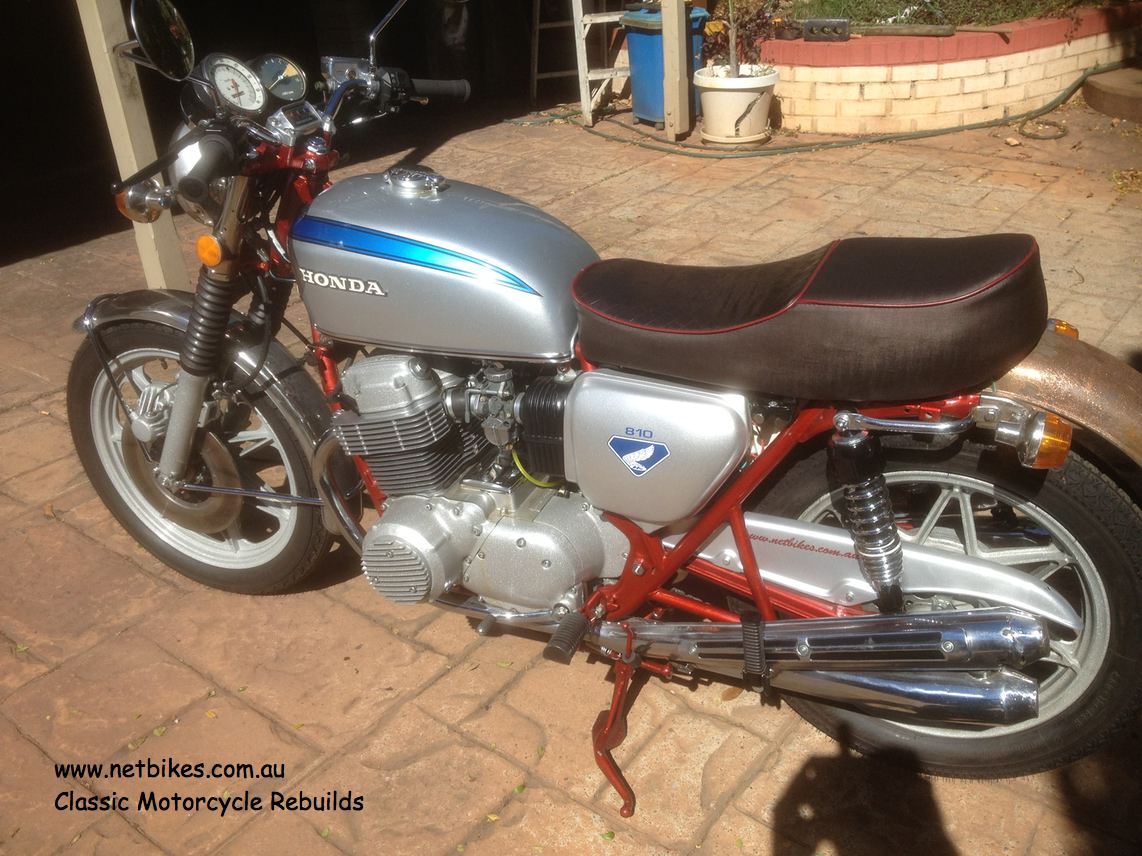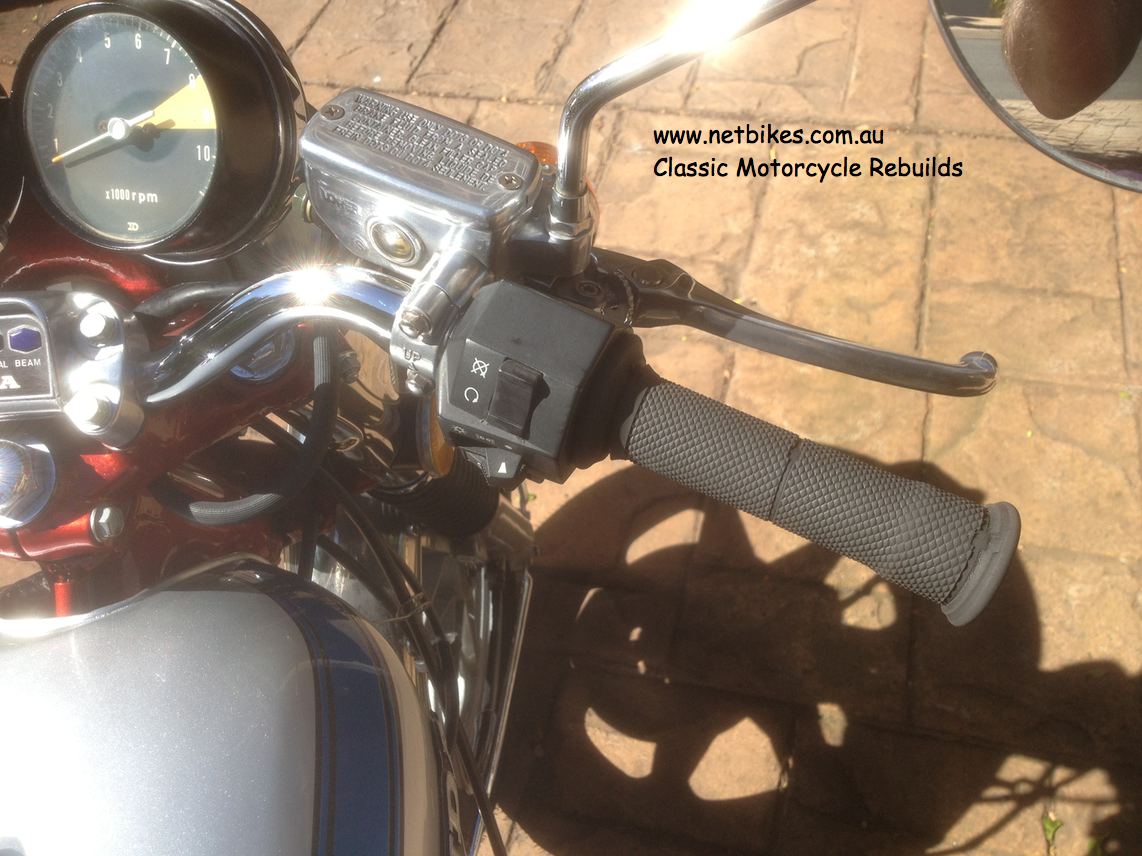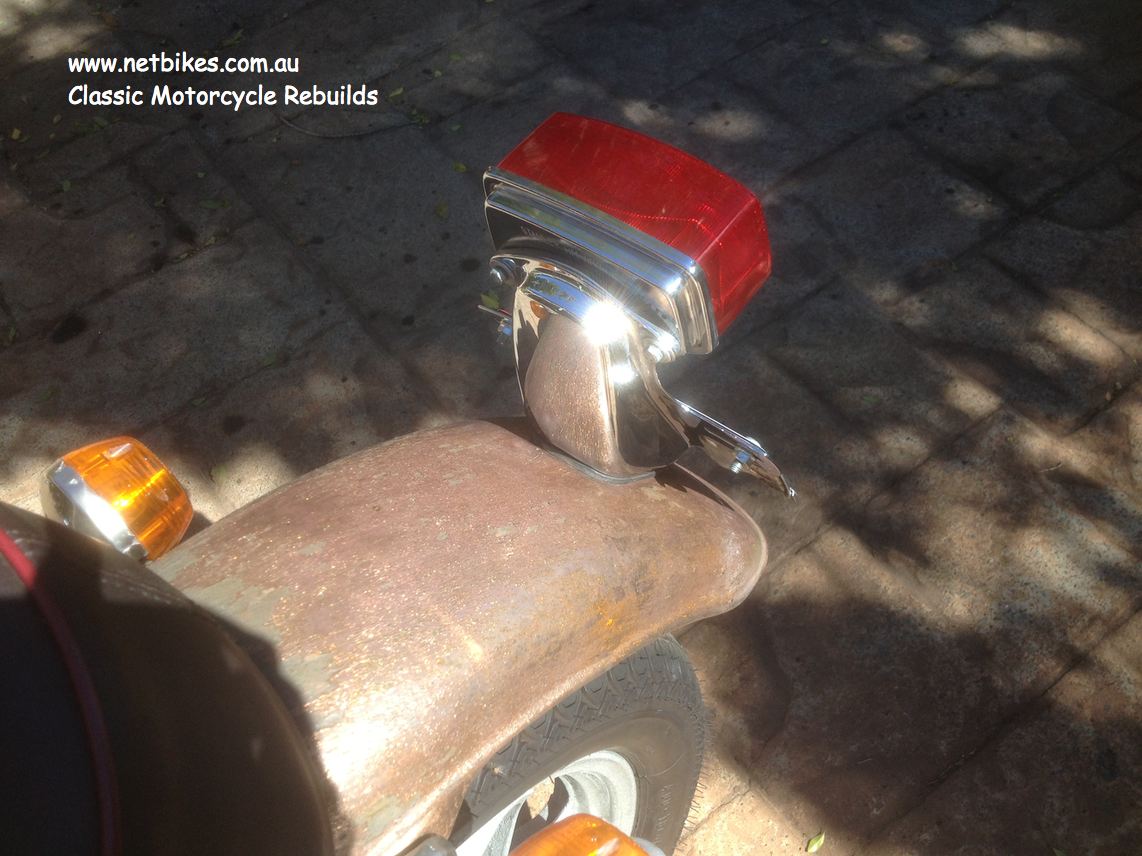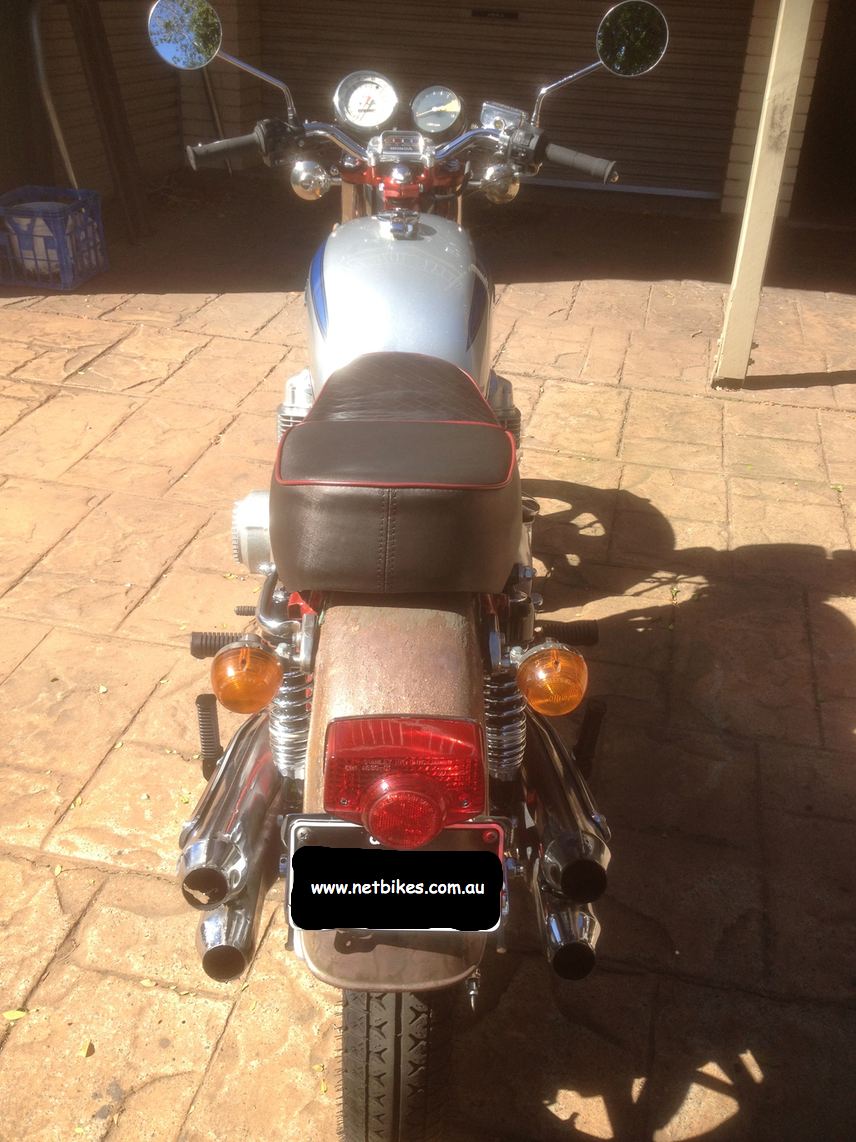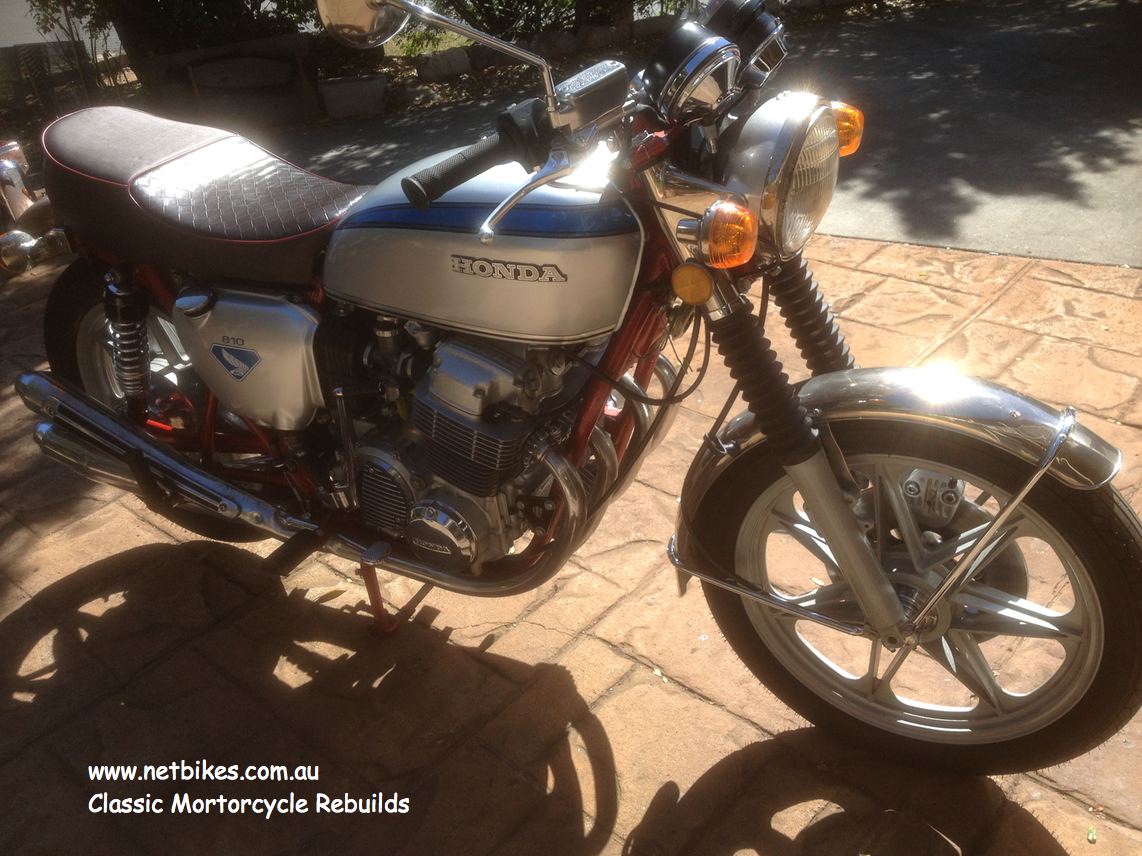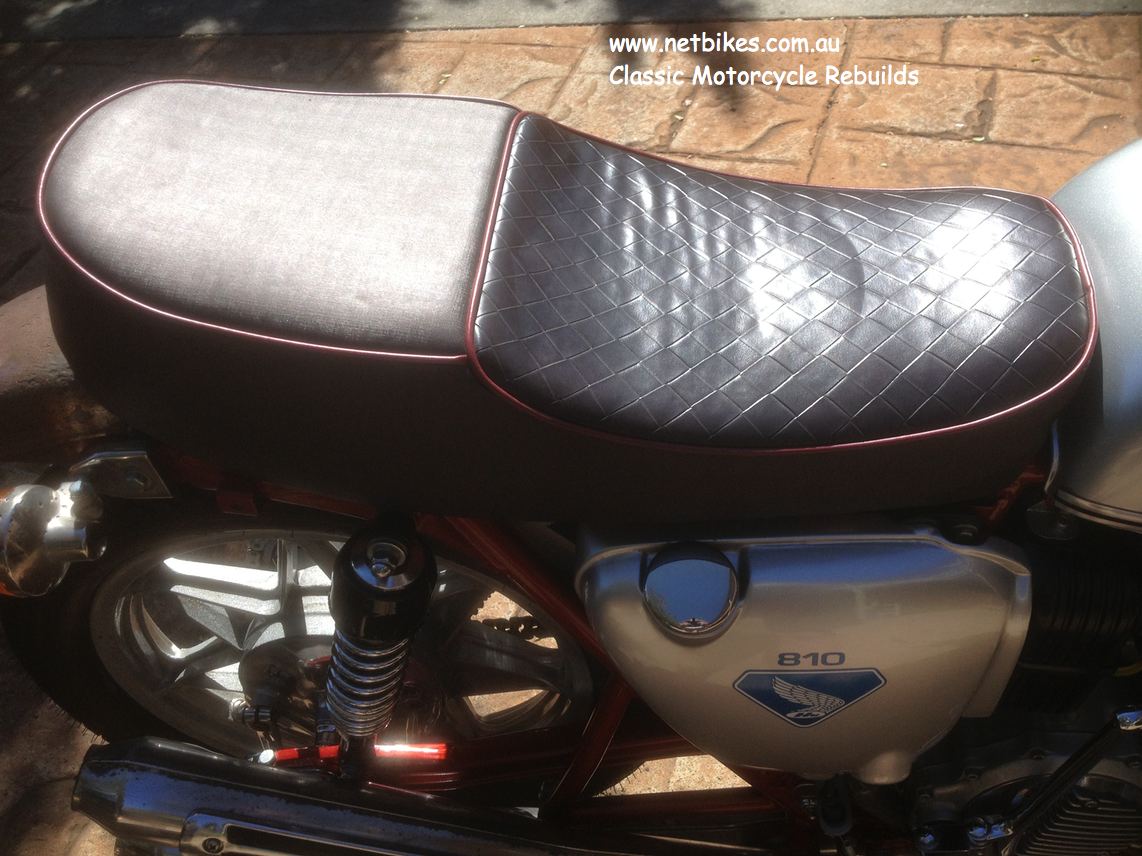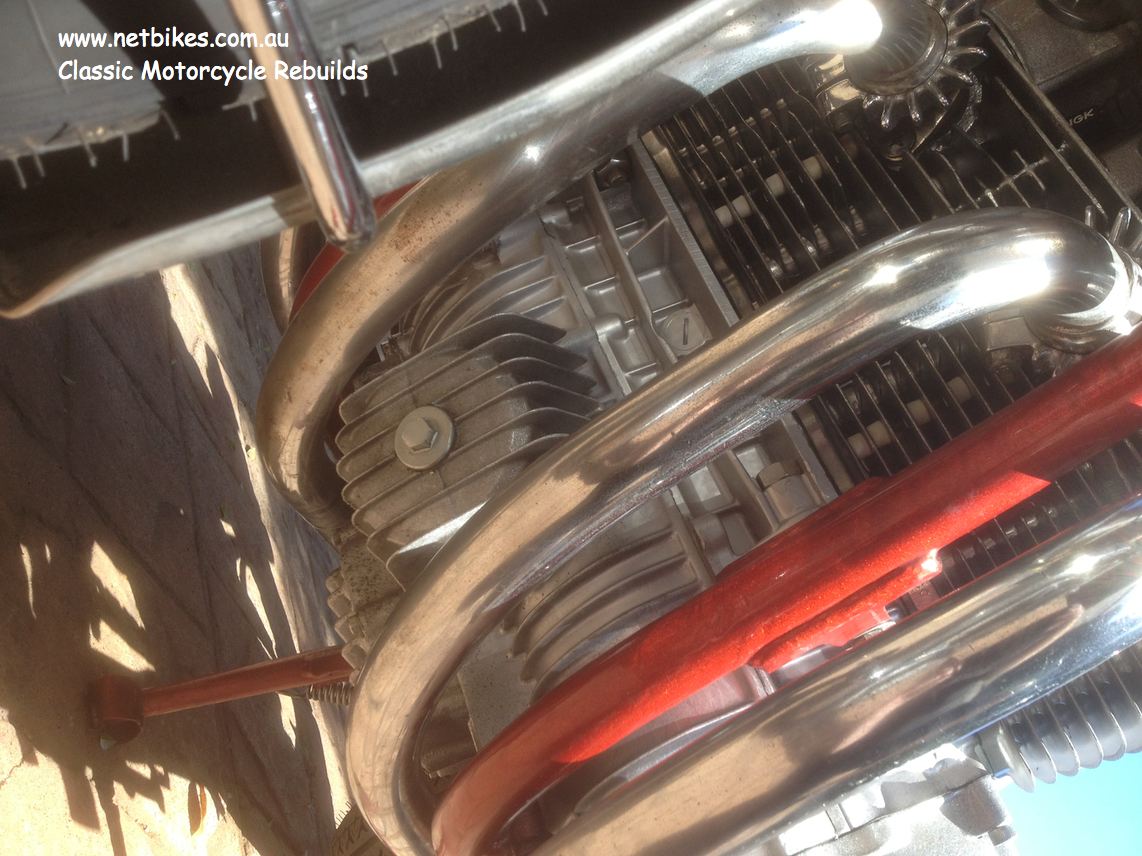 If you need work done on your classic machine, from basic service to full rebuilds, contact me, I can help.
+++++++++++++++++++++++++++++++++++++++++++++++++++++++++
netbikes is a registered business with the Queensland office of Consumer Affairs.
Business Names Act 1962 - 1990 Section 7 (4) Business # BN5951173
++++++++++++++++++++++++++++++++++++++++++++++++++++++++++
© netbikes Motorcycle ONLY Classifieds Australia
Brisbane 4122 QLD AU Ph. 0422819200
netbikes@netbikes.com.au