This is basically a daily rider, it is used on club rides, family away rides, local rides to mates and shops etc,
therefore it is not a show bike but presents nice all the same.

Ask anyone that ownes one or has owned one and they will tell you these are the BEST old bike you can buy for touring barr none.

Speedo currently reading 45942K's done, I cannot verify that is accurate, lets say probably not but possible. Note as I am still using the bike regular the kilometres will rise.
Last oil and filter change was at 44163 on 27/9/2019.
Bike has QLD rego to April 10 2020 and this can be transferred to QLD buyer or sold not registered if going out of QLD.

Below is a few things I have done/replaced since Oct 2018. Note fork seals need doing again now, new seals supplied with sale but not fitted.
Also repaired is the wiring harness, just about every plug was replaced with correct Japanese fittings and updated regulator fitted.
Other parts fitted include new mastercylinder, heated grips, bark busters and a plugin for yout phone or nav etc, also has a volt meter and the front bikini fairing which I believe is Kawa Z1000 style.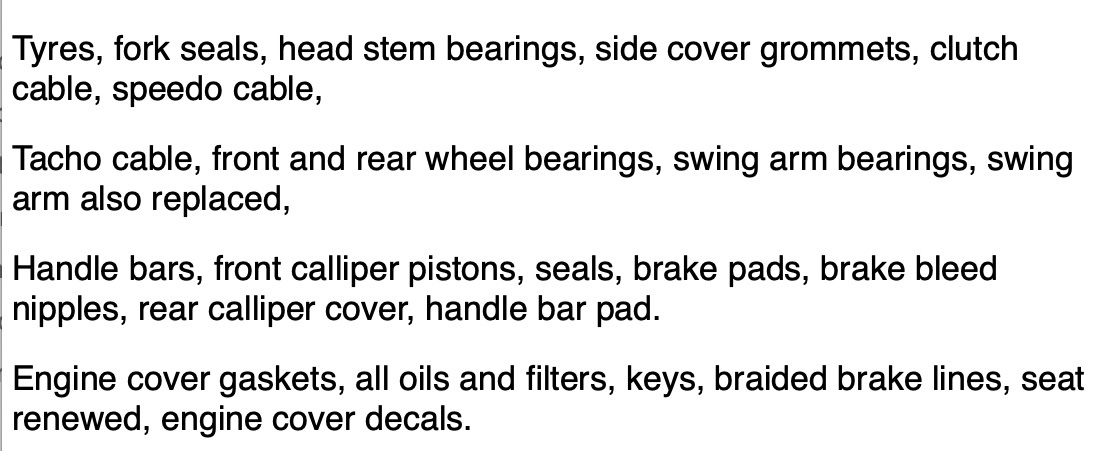 Now for the negative bits, as I have mentioned fork seals need replacing, the netural light does not work, hopefully just a bulb, and the fuel gauge does not work even though it has a new sender fitted.
The right hand frame cover has a split under the seat line and the fuel tank has a paint bubble left side.
Ok more pics now.

This pic taken just a couple days ago. I do have the original guard to go with sale.
In summary the bike runs really well and I have no doubt you could ride it anywhere in Australia in comfort and reliability.